8 RV Camping & Parking Sites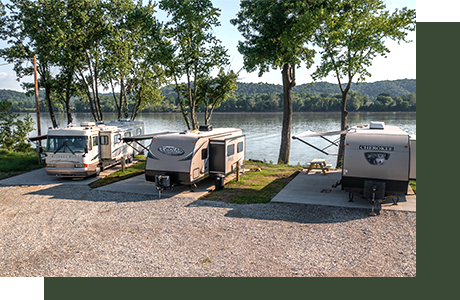 Enjoy direct boat access to the Ohio River via Brooksburg Public Access Site, located next door!
Canby Ferry Campground wants to make your RV camping experience fun, memorable, and comfortable.
River View
Our campground affords you views of the Ohio River.
Extended Stay
Long-term seasonal availability
(April 1 through first week of November)
Free Parking
You're welcome to park 1 additional car in front of your RV. Additional parking may be available.
Fire Pit
Get cozy and gather around the fire pit. Just BYOW (bring your own wood)
Pet Friendly
What's a camping trip without a furry friend (or two?)
Smoking Ok
Smoking is allowed at Canby Ferry Campground
Book your Canby Ferry Campground stay with us today
Spot #6 was perfect for a weekend getaway. It was quite and had some great views!
Recent Guest
Great spot close to downtown Madison. Clean & quiet.
Recent Guest
Ashley answered all of our questions quickly, even gave us some great restaurant recommendations – Red on Main had great cocktails!. Great private campground. Will be staying again.
Recent Guests
We're excited to have you enjoy our RV Campground
AIRBNB SUPERHOSTS – Canby Ferry Campground
Have a question about our RV Campground?
FAQs
Q: When are you open?
A: We are a seasonal campground, open April 15 through first week of November.
Q: What kind of stays are available?
A: Single night, weekly, monthly stays available.
For all other questions, please email us: book@canbyferrycampground.com
Check In & Out
Check In: 1:00PM – 8:00PM
Check Out: 11:00AM